Notice
: Undefined index: hover_icon_tablet in
/nas/content/live/ccleaners/wp-content/themes/Divi/includes/builder/module/Image.php
on line
307
Notice
: Undefined index: hover_icon_phone in
/nas/content/live/ccleaners/wp-content/themes/Divi/includes/builder/module/Image.php
on line
308
Notice
: Undefined index: hover_icon_tablet in
/nas/content/live/ccleaners/wp-content/themes/Divi/includes/builder/module/Image.php
on line
307
Notice
: Undefined index: hover_icon_phone in
/nas/content/live/ccleaners/wp-content/themes/Divi/includes/builder/module/Image.php
on line
308
So, you're looking to switch things up this bikini season and you're not sure which kind of summer bikini will help you do that best. You're officially invited to consider a crop bikini top. Why? The biggest reason to try out this style is that a crop bikini top will look good on everyone no matter their body type, physique or level of curves. It's hard to explain just how it is that everyone looks great in this style, but it's similar to the way that everyone looks good in a sports bra.
Crop bikini top style swimsuits are great for more reasons than just looking fabulous on everyone. Some people spend their water time participating in sports and a triangle bikini will not compliment that lifestyle that at all. Extra coverage from a crop bikini top is ideal when you're moving around a lot. You're far less likely to suffer from material rubbing up against your skin too much in uncomfortable spots. A crop bikini top also tends to eliminate the need to tie or re-tie any part of your bikini during the day.
Of course, a crop bikini top is also a great choice if you're not someone who's into showing off everything you have to a bunch of strangers at a beach. This bikini style will allow you to maintain some element of mystery while you mix and mingle with your friends. It's also totally possible that you and a group of coworkers might take a team bonding trip down a river in some canoes. If you're not interested in your team members getting a full view of your cleavage a crop bikini top literally has you covered.
A crop bikini top is also perfect for when you're trying to send the focus elsewhere. If you're a lady with a great booty you can wear a crop bikini top and a pair of daring bottoms to make sure you're drawing all the attention right where you want it. Whether you just have fabulous natural curves in that area or you've been squatting like a pro in the gym, a crop bikini top will help you out.
Navy Lady
Who doesn't appreciate a good navy piece in any part of their wardrobe? This color carries flawlessly from one season to the next which is why it's always a solid choice for your crop bikini top. Throw a bright, floral pattern on top to look extra summery. Another bonus of picking a navy crop bikini top? You can wear it with navy bottoms, white bottoms or any color that shows up in the pattern and it will look completely perfect.
Button Up
This buttoned crop bikini top knows exactly what you need. Perhaps one of the best things about this top is that the buttoned look means you control just how little or how much of your chest you're showing off at any given moment. You can keep this crop bikini top buttoned up or buttoned down if you're feeling a little more free and flirty.
Seeing Shapes
All too often the season's bikinis get lost in a sea of flowery prints. This  crop bikini top gives you a chance to stand out from that look with a cool geometric design. Not only will you be rocking a ton of different shapes that somehow all flow together, your style will be extremely colorful and festive! You can keep things toned down by pairing it with white bikini bottoms or keep it classic with the set.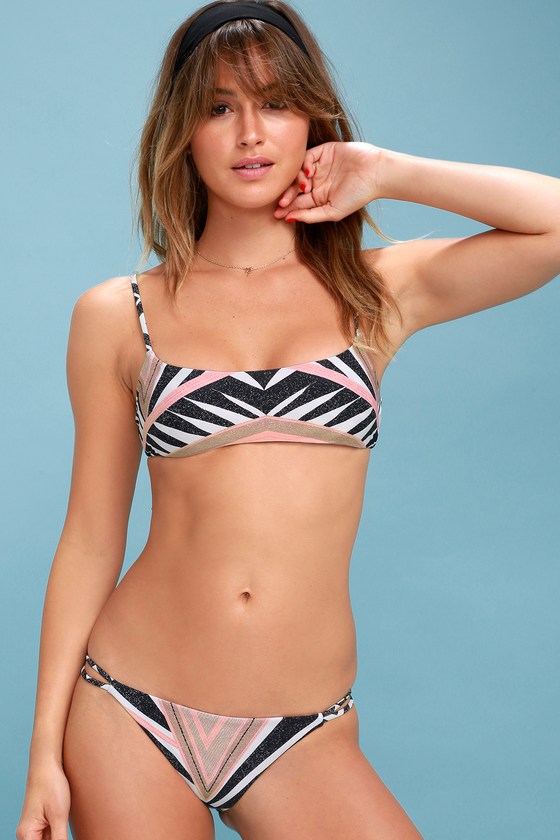 One Shoulder
Worried that all crop bikini top styles are the same? Never fear! This crop bikini top embraces an asymmetrical style and secures on one shoulder instead of both. This is a perfect option if you're feeling the cropped look, but want a way to make the style feel a little edgier than other designs.
To Tie Dye For
The very best part about this tie dye, crop bikini top is that while the design is bright and beautiful it won't hurt anyone's eyes. Honestly, it kind of just looks like a snippet of a red sunset over the water and it's beautiful. Tie dye can be such a tricky look in the summer, but it fits in perfectly with a crop bikini top style. If you're heading to the beach for some volleyball this top will look great under a cutoff until you work up a sweat and need to dip in the ocean.
Crochet All Day
You seriously have so many style options when you opt for a crop bikini top. This crochet swimsuit is a great example of a way to keep the crop top style fun and interesting. If your style falls somewhere between western and bohemian this crop bikini top is perfect for you. The crochet bottoms are quite small at first glance and even smaller when you realize you can see through the design!
Who Lives in a Pineapple Under The Sea?
Even if you're not a sponge named Bob who wears Pants and lives under the sea.. You'll want to live in this cute pineapple suit, all summer long! This fruity suit is not for the faint of heart (or stomach for that matter). Pair it with your favorite pair of slides and shades and your set for a day of flavorful fun. Let that frill trim flatter your figure as you frolic all day in the sun.
Traditional
Never feel bad about keeping it classic, after all blacks the new black! Keep the focus without any distracting prints to get in the way of your chic summer look. Black goes with anything and everything so feel free to mix'n'match it if you're feeling creative… or just stick to black, we won't judge.
Why Not White?
So you're not into wild prints, ruffled fabrics, or anything in between. You can still find a perfect crop bikini top! This white bikini top has all the elements of a cropped top, but none of the extra features that might make other designs a turn-off for you. Sometimes it's best to just keep your pool style as simple and effortless as possible. If you want to spice this look up a bit you can add gold accessories and matching metallic sandals.
It's All In The Bottoms
Hello, legs! This crop bikini top pairs perfectly with small bikini bottoms designed to show off your backside. There's no reason to cover up everything when you wear a crop bikini top so don't feel like traditional and high-waisted bikini bottoms are your only options. High-cut bikini bottoms are amazing for flattering your hips and legs while maintaining just enough coverage in the front. Don't be afraid to show off your booty on the beach!